Summer lovin'
Wow, guys, thanks so much for your comments about the blog!!!! I am totally rapt at how fantastic it's been to be part of this, and all you wonderful gals I've met along the way!! Even though Taryn's out of the country ATM, working hard on the Olympic telecast for us Aussies, I know I speak for her as well as myself when I say we have loved hosting this KAL, and never dreamed we'd have so many participants.
Taryn and I first 'met' a couple of years ago on another online list, and then discovered not only were we both knitters, but that we both knew what Knitty and Interweave Knits were, and shared tha same language of yarns and patterns, lol!! The idea of the summer sock KAL was just tossed around one day, and before I knew it Taryn had the blog up and running, complete with button!! So thank you, dear partner in crime, you know what a terrible procrastinator I am, lol.
To date, I haven't knit as much as I thought I may have, and I attribute that to something in the universe changing, and time not being what it used to be, surely!!! I feel like I've been knitting nothin' but socks since November, and to show I have one pair of Jaywalkers, one finished ankle sock, and about 3" of another sock completed. But no biggie, I've been enjoying the process.
Speaking of which, I've finished one of the pair of anklets I'm knitting for Blue Blog Alison's Sockapaltwoza. A lady didn't receive her pair in the swap, so I volunteered to be a 'sock saviour'. Here's the completed one: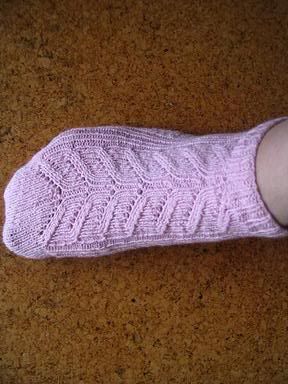 I'm knitting the mate as my Knitting Olympics project, to make sure it gets done!! I'm on target so far, so it's all good.
A question for you all - do you want to continue the KAL throughout the year?? Even though summer is nearly over, doesn't mean the sock knitting has to stop, I was thinking something along the lines of re-christening the blog an Aussie sock KAL. I'll have to consult with my co-host and see what you think, but we'd love your input!!