the motherlode has landed
After being without a computer for a month, and also being a bit time challenged, I bring you, the motherlode socks: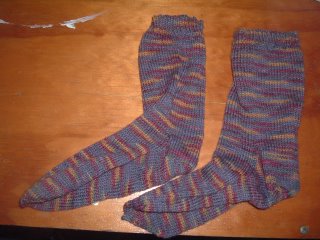 These are 60 sts in the round , 30 for a flap heel, plain ol' stocking stitch socks in Lorna's Laces "motherlode" colourway. The self patterning looks good, IMHO. I have been nothing short of inspired with all of the mega groovy socks beign produced out there in sock it to me Summer blogland! I reckon that if you used a different colour for the ribbed band, the heel and the toe, on a 2.5 mm needle, you could almost get away with 1 skein only of LL. Has anyone else out there thought of this and tried it?
More finished socks to come shortly!